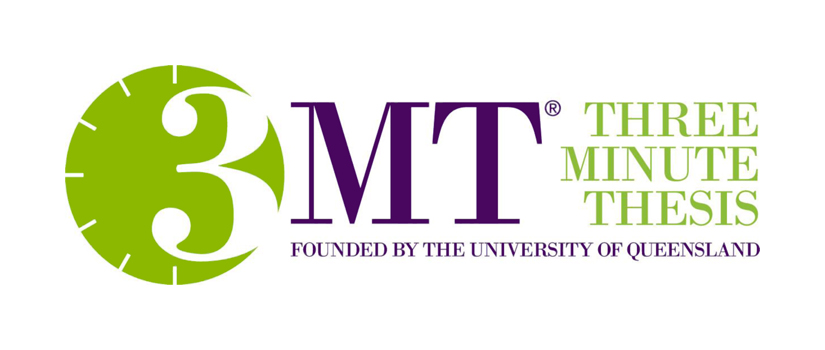 3MT
3MT (Three Minute Thesis) is an international research competition where graduate students have 3 minutes to present their research and its impact to a panel of non-specialist judges and peers. The exercise develops academic, presentation, and research communication skills. It also supports the development of research students' capacity to effectively explain their research in language appropriate to an intelligent but non-specialist audience. This year marks the sixth time York University has participated in the Canadian competition.
Why should you participate in 3MT?
A fun, challenging, and unique academic competition, participating in 3MT can have many benefits to your personal and professional development:
It is a great opportunity to develop a valuable and sought-after skill set – to communicate complex ideas in a concise, clear, and engaging way;
Winners of the York competition will get prizes ($1,000 for the first prize) and the chance to compete at the provincials at York University in April;
And most importantly, you'll have the chance to share your most important academic endeavor – your doctoral or masters research – with people beyond your circle of peers and faculty members.
The ability to clearly communicate complex topics is a highly useful and sought-after skill set, and participating in 3MT is a great way to hone this skill for use in the classroom, the boardroom, and beyond.
Prizes
1st place: $1,000
2nd place: $500
3rd place: $250
People's Choice: $250
2018 Schedule
York University 3MT Competition and Reception
Thursday, April 5, 2018
4:00-6:00pm
Vari Hall, Lecture Room D
Register
Preparation Workshops
| | | |
| --- | --- | --- |
| 3MT 101: What, When, How - featuring last year's 1st place recipient who will share her tips and strategies | Wednesday Feb. 21, 10:00–11:00am, 626 Kaneff Tower | Register |
| Creating a winning 3MT: "How to pitch a proposal" with Richard Phillips | Wednesday, Feb. 28, 1:00–3:00pm, 519 Kaneff Tower | Register |
PowerPoint Slides and 3MT Title
Please submit your 3MT title and a single, static PowerPoint slide using our
online form
by
Wednesday, March 14, 2018
.
Current York University graduate students are invited to be 3MT competitors if they meet the following conditions:
Students must be registered in a research-based Master's (Thesis or MRP) or PhD program at the time of the 3MT competition, and must have made substantial progress on their research and analysis. Course-based Masters students are ineligible.
PhD and Masters students who have defended, but have not yet convocated at the time of the York University 3MT competition, are eligible to participate.
3MT presentations must represent the primary research the student is conducting in his/her graduate program (i.e. thesis, dissertation, or MRP research).
Presenters must agree to be video-recorded, and to allow those recordings to be made public (Note: This applies only to the winning student who participates in the Provincial Finals. York's internal 3MT competition will not be videotaped).
A single static PowerPoint slide is permitted

No animation or movement
No additional electronic media (e.g. sound and video files)
No additional props (e.g. costumes or instruments)

Must present in-person
Presentation must relate directly to student's thesis/dissertation research
No laser pointers are permitted
Presentations are limited to 3 minutes
Adjudicating panel decisions are final
Presentations will be judged on the basis of the following:
Communication

Did the presenter use language and terminology that was clear and understandable?
Was the pace of the talk effective?
Did the presenter use non-verbal communication (i.e. eye contact, voice modulation, body language, etc.) effectively?
Did the slide enhance, rather than detract from, the talk – was it clear, legible, and concise?

Comprehension

Did the talk help you to understand the scholarly research and creativity?
Did the presenter clearly outline the nature and purpose of the scholarly research and creativity?
Did the presenter clearly indicate what is interesting about the scholarly research and creativity?
Did the talk follow a logical sequence?

Engagement

Was the talk engaging?
Did the talk inspire you to want to know more?
Did the presenter convey enthusiasm for their work?
Did the presenter capture and maintain your attention?
Provincial and National Events
The winner from York's finals is invited to attend the 2018 3MT Ontario final on Thursday, April 19, 2018 at York University. This is a great opportunity to showcase your research to a wide range of scholars from across the province. Approximately 20 Ontario universities will be participating this year.
Winning presenters from the Ontario provincial finals are invited to compete in the Canadian national virtual finals hosted by the Canadian Association of Graduate Studies. This virtual competition, to be held in summer 2018, brings together contestants from the Ontario, Eastern, and Western regional competitions. More information about the 3MT national competition can be found at CAGS - Three Minute Thesis Competition.
Frequently Asked Questions (FAQ)
What proportion of my degree has to have a research component for me to be eligible to compete?
– You are eligible to compete if your degree involves a thesis, major research paper (MRP) or dissertation. If your program is course based, you are not eligible.
---
I was a student at the time of my competition at my university, but will graduate before the Ontario competition. Am I eligible to enter?
– Yes. If you are eligible at the time of your university's competition, you will remain eligible for the Ontario competition, regardless of your program status.
---
I have participated in the Ontario 3MT before. Can I participate more than once?
– Yes. The winner of their university final will be expected to attend the Ontario competition in person as long as they meet the eligibility criteria.
---
Can I present my oration via Skype?
– No. Participants are expected to attend the York and Ontario competitions in person.
---
Can I present my oration as a poem, rap or song?
– No, 3MT is primarily about developing students' oration skills.
---
Can I use a laser pointer?
– No, a laser pointer is not allowed.
---
Does my slide have to be in PowerPoint?
– Yes, this ensures it will appear properly on the operating system that will be used.
---
How many transitions or animations can I have in my slide?
– None. The slide must be static and not change in any way during the presentation. Your slide must be displayed for the duration of your presentation.
---
Can I use notecards?
– Yes, you are permitted to use notecards during the York University competition. Even if you have your talk memorized, we still encourage you to bring up notes just in case.
– However, you will not be permitted to use notecards at the Ontario final.
---
Will I be able to see a countdown timer during my presentation?
– Yes, a countdown timer will be visible to you at all times.
---
What happens if my presentation is longer than 3 minutes?
– A countdown timer will be visible to you. If you continue to speak after the timer ends, you risk having points deducted by the judges.
---
Is there a dress code?
– There is no stipulated dress requirement such as "smart casual". Please wear whatever is comfortable for you. NO COSTUMES (including hats, masks, etc).
---
Will my presentation be videorecorded?
– York University's internal 3MT will not be videorecorded. The provincial final (hosted at York University) will be videorecorded, and in agreeing to participate in the provincial competition, you are also agreeing to have your presentation videotaped and the video posted online.
---
Can I win more than one category?
– Yes, it is possible to win a place (1st, runner up etc) and win the People's Choice Award.
---
What happens if I cannot attend the Final?
– The winner of each heat or final is expected to represent their School/Institute/Faculty/University at the next stage of the competition. If the winner is unable to attend, the runner-up will proceed to the next round of the competition.
---
Resources
Questions regarding this event can be directed to Yuko Sorano, Research Officer at fgsro@yorku.ca, or ext. 44168.
3MT is committed to accessibility for persons with disabilities. Should you require an accommodation in order to meaningfully participate, please contact Yuko Sorano at fgsro@yorku.ca, or ext. 44168 as soon as possible to ensure your accommodation is available.