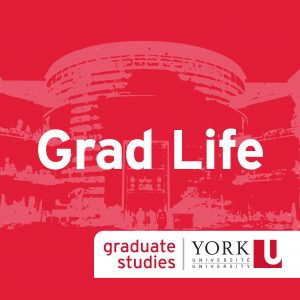 Grad Life is the official podcast of the Faculty of Graduate Studies at York University, featuring interviews with the faculty, staff, and students of the graduate programs. Learn more about the research, events, and ideas of the place where knowledge is made.
Grad Life is available through iTunes, Spotify, Stitcher, and the podcast app, and can also be accessed through our Soundcloud account.
Episode 13
Dancing with the Animals | The New Career Reality

Episode 12
What is Memory Studies?

Episode 11
Meet the Dean

Episode 10
A Space for Queer Students | A Black History of Psychology

Episode 9
Stories from a Settler Colony

Episode 8
Shakespeare's Girls

Episode 7
The Dog Episode

Episode 6
Mental Health

Episode 5
Science is Political

Episode 4
Indigenous Education

Episode 3
The Global Filipino / Snowden in a Box

Episode 2
The Immigrants Who Built Toronto

Episode 1
Off the Gridiron with Kamau Peterson