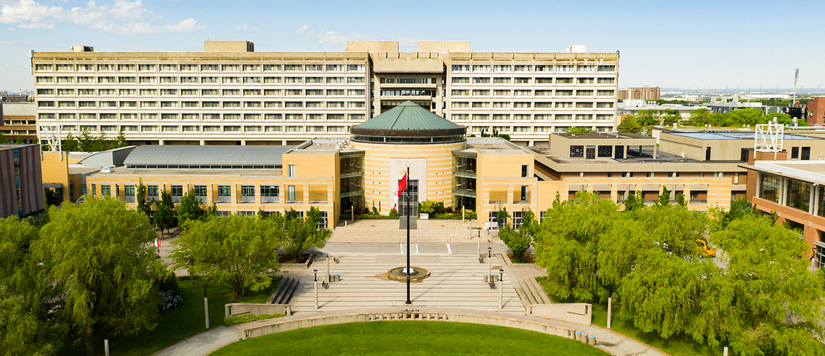 --Information on FGS during COVID-19--
Welcome to the Faculty of Graduate Studies at York University. Since 1963, we have provided essential support for students, staff, and faculty in York's graduate programs, fostering excellence in teaching and research. With close to 100 graduate programs and diplomas, and the largest body of active researchers on campus, Graduate Studies at York is an exciting environment to pursue innovative, career-ready education. Whether you're a prospective student, a current student, a postdoctoral fellow, or a member of our faculty and staff, this website offers the tools and resources to guide you in your academic journey.
Graduate Studies is where the next generation of careers and ideas are born. We provide our more than 6,000 graduate students with the academic environment to pursue world-changing research. With our cross-disciplinary programming, experiential learning opportunities, and international partnerships, we provide a modern and innovative education for a changing world. Empowered by a strong community that opens minds, our graduates pursue solutions to the world's most pressing social challenges, and their impact is being felt everywhere from the federal government to the entertainment industry. This is the place to pursue the career you've dreamed about—or find the path you never imagined. This is the place where knowledge is made.
Grad Studies News

Faculty of Science graduate students making waves with AI wig-fitting technology
December 10, 2020
Graduate students from the Faculty of Science's Department of Mathematics and Statistics have developed an Artificial Intelligence (AI)

PhD student develops tool for improved symptom management in oncology patients
November 6, 2020
New research from York University represents a remarkable step forward in personalized breast cancer treatment. Lassonde School of

PhD candidate receives award for teaching excellence
November 5, 2020
Dr. Sheila Harms, MD, a fourth-year PhD candidate in the Faculty of Education, is the recipient of the

York researchers find Canadians lack knowledge about bees
November 2, 2020
How well do you know your bees? York University researchers have found bee knowledge in Canada lacking with

Grad student leads study on using AI to better assist in humanitarian crises
October 2, 2020
At York University, we aspire to better understand the human condition and the world around us and to

York retirees raise funds for graduate student awards
September 28, 2020
In October, a group of retired York University employees will be participating in the Scotiabank Virtual Charity Challenge,
Quick Links