Graduate Fellowships available for Summer 2015. Applications are due by Wednesday April 15, 2015.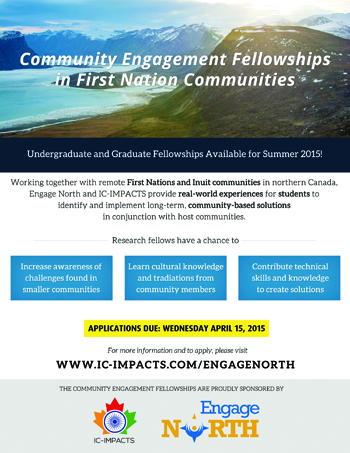 The program is specifically designed to attract Masters or Doctoral students interested in working with a First Nations community in northern Canada this summer. The Fellowships will increase the awareness of challenges found in smaller communities while providing an opportunity for the student (Fellow) to contribute their technical skills and knowledge to create applied solutions with the community. The Fellows also learn first-hand the cultural knowledge and traditions from community members of the Pangnirtung First Nation people in northern Alberta. Flights, accommodation and monthly stipends are provided.
Engage North, a program of the University of Alberta, and IC-IMPACTS are sponsoring the Community Engagement Fellowships, which provide real-world experiences for students to identify and implement long-term, community-based solutions in conjunction with host communities. For more information on the Fellowships, visit the IC-IMPACTS Engage North website.
IC-IMPACTS is the first, and only, Canada-India Research Centre of Excellence established through the Canadian Networks of Centres of Excellence (NCE) dedicated to the development of research collaborations between Canada and India. IC-IMPACTS is a pan-Canadian Centre bringing together researchers, industry innovators, community leaders, government agencies, and community organizations from across India and Canada, to work hand-in-hand to find solutions to the key challenges that affect the quality of life of millions of people in Indian and Canadian communities.