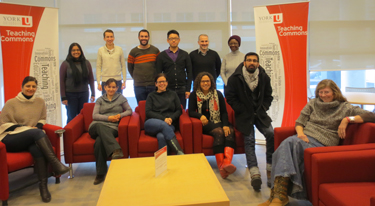 The Teaching Commons at York announces that the Supporting Teaching At York (STAY) Symposium will be continuing as planned. This symposium is designed to celebrate the efforts and the achievements of those of who have completed the Senior Teaching Assistant Program as they showcase their dedications and contributions to enhance and enrich student learning. Please join us in celebrating the achievements of the Senior Teaching Assistants and engage in this fun-filled day of workshops where we will share our teaching experiences and strategies with one another and participate in discussions about teaching.
When: Friday, May 1st, 2015
Registration: 9:00am to 9:30am
Symposium runs from 9:30am to 3:30pm
Location: TEL 0016
It is not too late for you to be able to earn a 'Record of Completion' Certificate. To see how your registration and participation in STAY may help you to achieve a certificate, please see the Teaching Commons website for more details.
Lunch will be provided to all who register for the Symposium.
Registration is a two-step process:
Step One: Register online
Step Two:  You are also required to register for individual sessions. For more information, please visit the STAY conference website