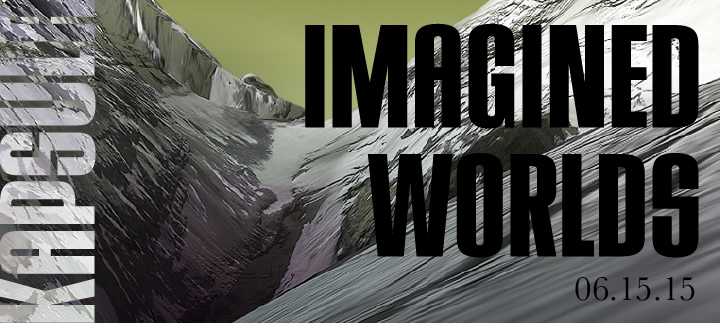 by Jen MacDonald and Stella Melchiori
PhD Candidates in Art History
The 14th Annual York University Art History Graduate Student Symposium, Imagined Worlds, held in February 2015, sought to question the effigy of the real, notions of verisimilitude and the productive spaces created by processes of simulation in art, history, ritual, and life. Thinkers working around History, Cultural Studies, Philosophy, Politics and Technology question origins, borders, control, cross-contamination, and re-imaginings as a vehicle to open the possibility for worlds unseen, worlds returned to, and worlds dissolving.
In taking inspiration from these discourses, the symposium's presentations responded to the imagined worlds of attempted colonizers, the layers of fantasy in popular media, and the reimagining of numerous scientific, historical, art historical and social narratives. We were so pleased to hear from these thinkers and, in taking inspiration from the symposium's discourses, we partnered with KAPSULA in the creation of an art publication that set out to address and propose spaces of varying materiality - all of which have tangible implications.
The collaboration between KAPSULA and York University's Art History Graduate Student Association of York (AHGSAY) has resulted in a special online issue also titled Imagined Worlds. The issue will publish interviews, papers and image-based works by select thinkers who participated in the 2015 conference. The issue will be released on June 15, 2015 and will address themes of augmented reality, claiming space, critical interventions and speculative realism.
This partnership, while distinct, is not unique. Special issues of KAPSULA have been created in collaboration with University of Waterloo Art Gallery, Gallery 44 Centre for Contemporary Photography and OCAD University's Contemporary Art, Design and New Media Art Histories (CADN) Masters of Arts program. Released monthly, KAPSULA Magazine currently publishes more content focused on critical issues in contemporary art than any other publication in Toronto.
KAPSULA is a non-profit organization run entirely pro-bono by a small but dedicated staff of arts workers. Subscribing to KAPSULA is free, and accessible online.
Jen MacDonald is a thinker, writer and maker based in Toronto. She is currently a graduate student at York University studying Art History with a specialty in Contemporary Canadian. Jen has worked in geriatrics, community based organizations, and most recently completed an internship with Mammalian Diving Reflex. Her writing has been featured in Drain Magazine and MusicWorks Magazine.
Stella Melchiori is an emerging curator based in Toronto, Canada. She is currently an art history graduate student at York University where she is specializing in contemporary Asian art. She has curated projects with the Japan Foundation Toronto, Bathurst 918, Propeller Centre for the Visual Arts, the Art Gallery of York University and Gales Gallery.