A third-year York Kinesiology PhD student was one of the torch carriers in the relay that opened the recently completed Pan Am Games.
Chris Chen, a member of Dr. David Hood's lab in the Faculty of Health, also volunteered at the games as an Event Services Team Leader and was located at the new York athletics stadium.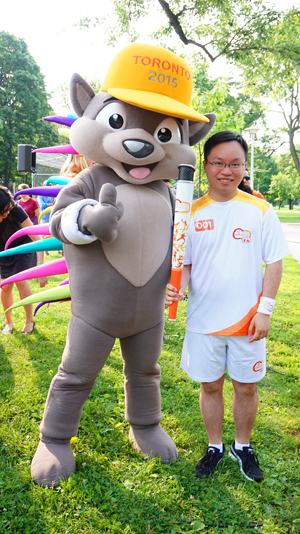 "Before torchbearers were selected, I was already a Pan Am games volunteer. I received notification one day from the torch relay team seeking torchbearers and I applied," he says. "I explained I wanted to be a torchbearer because of my love for large sporting events like the Olympics and how proud I was to be Canadian during the 2010 Vancouver Olympic games."
"I further explained that I was a PhD student studying kinesiology at YorkU and that exercise is an integral part of my research and seeing athletes perform at a high-level is really inspiring. To me, there is no better honour for the games than to hold the flame for my fellow Canadians," Chris says.
As part of his duties as a volunteer Chris notes, "I will be in charge of leading a group of volunteers in providing exceptional service to spectators, athletes and the media. My role includes bringing athletes from their preparation area to the field of play; ensure the media know where they can be located; and lastly, ensure spectators find their seats and provide them high-level customer service."
His research is on the study of muscle physiology and how exercise and aging affects muscle function. Specifically, he examines mitochondria, the powerhouses of the cell. He says he is particularly interested in the molecular pathways involved in improving mitochondrial number and function through exercise. At the opposite end of the spectrum, he also examines what goes wrong with mitochondria when muscles undergo sarcopenia, or muscle loss with aging.