The Faculty of Graduate Studies (FGS) welcomed more than 60 postdoctoral fellows and their supervisors to its first ever Postdoctoral Orientation and Welcome Reception last night on Keele Campus.
The event aligns with the Canadian Association of Postdoctoral Scholars' (CAPS) National Postdoc Appreciation Week taking place this month to help recognize the immense contributions postdocs make to their institutions and the greater public.
Postdocs are skilled researchers who have typically just finished their PhD and are completing further training to become independent researchers. While incredibly important members of the York community, they are often overlooked due to their identity. Neither faculty members nor graduate students nor university staff, postdocs often get lost in the shuffle and, as a result, support systems are sometimes sparse or simply not widely known.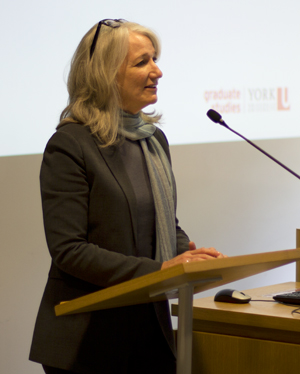 "As we begin this new academic year, we have an opportunity to reflect on and recognize the crucial role postdoctoral researchers play in Canada and at York specifically," said Barbara Crow, Dean of FGS, in her welcome address.
"They work across disciplines and bring their insights as emerging researchers to inform their pedagogy and connect with students and grad students. They offer mentorship to students and junior colleagues, and invaluable support with research and experimentation to principal investigators. They investigate their own projects, publish their findings internationally, and make things happen. They also come together to support each other, as attested to by the York Postdoc group co-founded in 2013 by Kelly Pike, who is now a professor here at York, and who has happily been able to join us here today."
J. Douglas Crawford, Distinguished Research Professor in Neuroscience, provided some earnest words speaking back to his days as a postdoctoral trainee. Coming full circle, he discussed how the more than 20 postdocs he has supervised since then have gone on to incredible careers in academia, research centres and private industry. "As supervisors, it's important for us to put our needs second to your development and success," he noted.
Celia Haig-Brown, Associate Vice-President Research, spoke about York's Strategic Plan and stressed how important postdoctoral research is to achieving the strategic goals in the plan and to research intensification at York.
Philip Kelly, Director of the York Centre for Asian Research, provided an overview of the many Organized Research Units (ORU's) across campus that flourish in part due to the efforts of postdocs. He also encouraged postdocs to reach out to various ORU's to collaborate with them on organizing initiatives such as the Speaker's Series and other research events.
At the forefront, the event provided an opportunity for postdocs to meet their colleagues, socialize and gain new acquaintances. FGS is planning future events and support systems to continue helping postdocs reach their professional and personal goals.
Postdocs can continue to connect with their colleagues by joining the York University Postdoc group at https://www.facebook.com/YorkUniversityPostdocs?_rdr=p.
To follow more postdoc appreciation events at institutions across North America, follow the #postdocappretiation hashtag on social media.