As part of the celebration of International Development Week 2016 the Ontario Council for International Cooperation (OCIC) has selected Development Studies Master's student Ashley Rerrie as one of seven Ontario youth in the Global Changemaker Youth Ambassadors program for her contributions to international cooperation and social justice.
Ashley understands that it's not only important to learn about where you're going when you work internationally, but that you should also know where you're coming from. Currently an intern with Casa-Pueblito assisting with fundraising at their Toronto office, Ashley has spent a great deal of time working with various organizations to achieve social change in Nicaragua — including three months spent working to prevent domestic violence and promote education about reproductive rights and healthy relationships.
It's an honour to be recognized for all of the hard work I've been doing throughout my university career.
This and other experiences have allowed her to learn a great deal about Nicaragua's tumultuous history, but she began learning about economic and global inequalities long before. A personal connection to Jamaica inspired Ashley to learn more, not only about her paternal homeland, but also about the fields of social justice and international cooperation. When one of her peers described a recent experience volunteering abroad in Ghana, she decided to follow suit. Ashley travelled to Nicaragua, where she learned a great deal about anti-oppression work, sparking an interest that followed her back to Canada.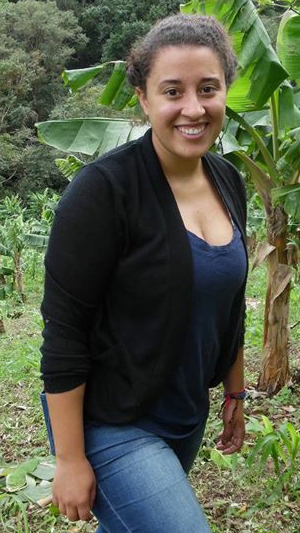 "I feel really proud to have been nominated by Casa-Pueblito and chosen as one of this year's recipients by OCIC. It's an honour to be recognized for all of the hard work I've been doing throughout my university career," Ashley says.
"I'm really grateful to the people who have helped me along the way, particularly the Development Studies grad program here at York — they've been incredibly supportive and have really assisted me in developing critical thinking skills that have helped me with a lot of the work I've done, as well as the staff at Casa-Pueblito. The recognition really serves as an affirmation of the work that I've done so far, and motivation to continue along the path I'm on," she notes.
Ashley acknowledges that much of the frustration and many of the obstacles in social justice stem from the vast and complex nature of global capitalism. "All of the work [occurs within] the context of… systems that can prevent transformative change," she explains, going on to describe how these systems are "tied into a number of problems like poverty, climate change, and even gender inequality." Although working with individual families or even communities can be fruitful, Ashley asserts that a concerted and global effort is needed to achieve permanent change.
This effort doesn't need to begin abroad, however — it can start right here at home. "I think one of the biggest obstacles for other youth… is the notion that you have to travel," she states. "If I could change something… [it would be to] help educate other youth so that we can understand that things we do in Canada are very much connected to changing things globally and fighting for social justice." Ashley believes efforts like holding political representatives accountable for the environment and being outspoken in your beliefs are the key to ushering in those lasting results. "We're a smart generation [and] our greatest advantage… is our ability to come up with creative solutions [that] older and more established individuals might not be able to see, or might not be willing to try… we're not as disillusioned."
Ashley narrates her own experiences in a video:
For more information, please visit: ocic.on.ca/gcm2016ashley
Casa-Pueblito is a non-profit, international organization that facilitates community development and intercultural learning with a focus on youth in Canada and Latin America. Casa-Pueblito envisions compassion and social justice across borders.
Contributed by the Ontario Council for International Cooperation, with contributions from the Faculty of Graduate Studies at York University.