Doug Crawford (Psychology) and Sean Rehaag (Osgoode) are this year's recipients of the Faculty of Graduate Studies' Postdoctoral Supervisor of the Year Award.
Awarded annually by the Faculty of Graduate Studies, this honour recognizes Postdoctoral Supervisors who have exceeded general expectations and demonstrated exemplary support for students at York. Crawford and Rehaag were celebrated at FGS's Postdoctoral Welcome Reception, held November 25 in the Ross Building.
"It is a pleasure to be surrounded by an amazing group of scholars from across disciplines," said Mark Hayward (Associate Dean—Academic) in an opening speech. "This event really is an opportunity to take a well-deserved break in your respective labs and research areas, and to connect with other postdocs and colleagues from across the institution."
Doug Crawford is a Distinguished Research Professor and Canada Research Chair in York's Department of Psychology, as well as the scientific director of the innovative VISTA project. His nomination letter, authored by several in his lab, highlighted his commitment to developing a research environment that prioritizes professional development, as well as supporting postdocs in developing both their own research and national/international research collaborations.
Accepting his award, Crawford focused his attention on his postdocs. "I want to acknowledge your importance here at the university. You guys are the leaders on the ground, leading the research." Highlighting the importance of the postdoc/supervisor relationship, he said, "You want to advance your careers; that's where mentorship comes in." He added, "I know it's a very stressful time, but it's also an exciting time.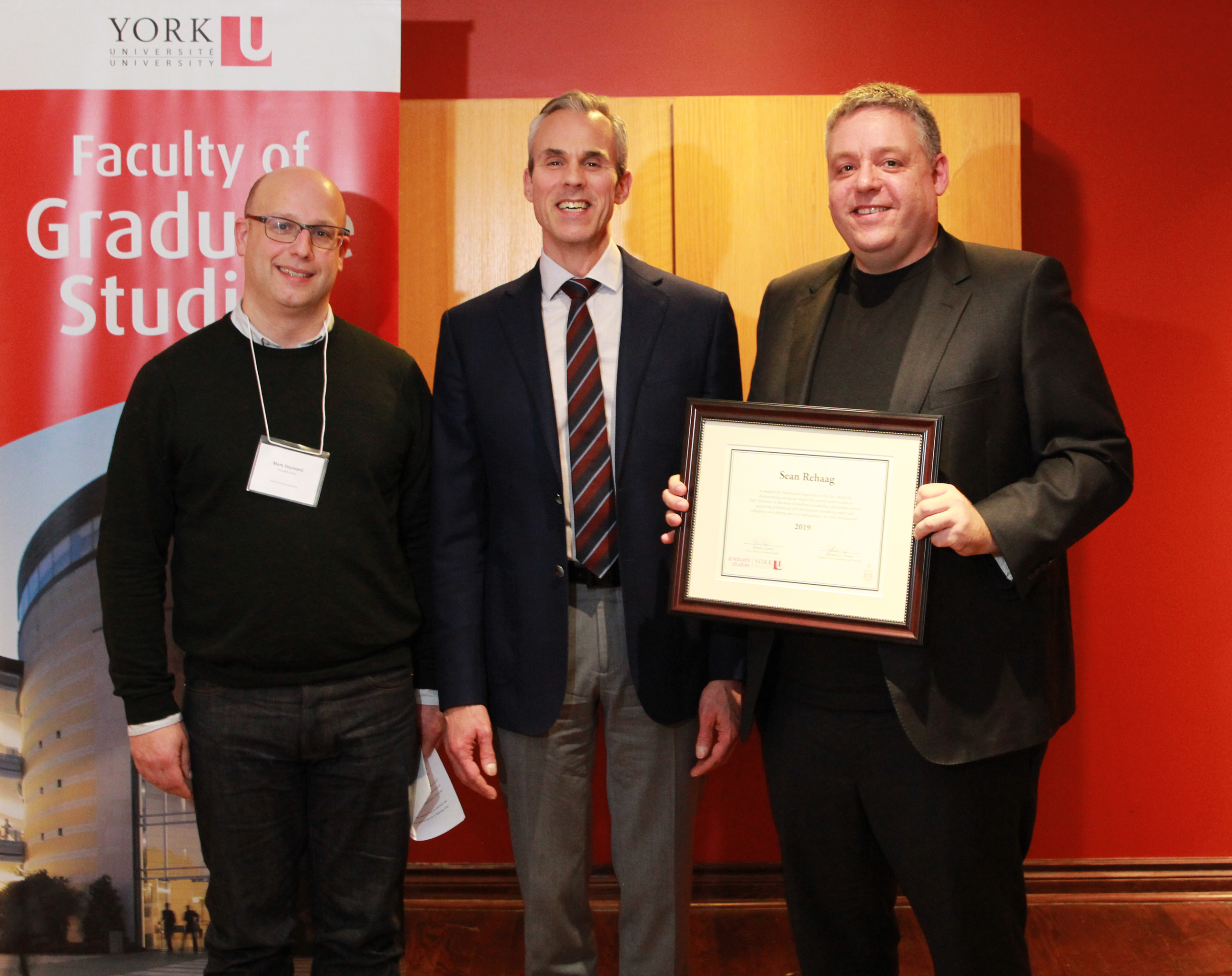 Sean Rehaag, an Associate Professor at Osgoode Hall Law School and the Director of the Centre for Refugee Studies, marked the end of his first year as a postdoc supervisor with the award. In her nomination letter, SSHRC PDF Hilary Evans Cameron wrote, "Prof. Rehaag always had his eyes open for ways to involve me in projects that gave me the opportunity to learn valuable new skills. He also never missed a chance to help me to connect me with new research communities, to promote my work, and to share it with new audiences."
In his acceptance speech, Rehaag praised Cameron: "Working with her was already changing how I approached my research agenda." He also urged postdocs to chance how they viewed their relationships with supervisors: "Think of yourselves as junior colleagues, [and] think of your supervisor not as a supervisor, but as a mentor."
Postdoctoral Fellows and the Supervisors play a crucial role in York University's identity as a place fostering new and innovative research. "It is also important to reflect on the vitally important role you as postdocs make in intensifying research," said Hayward. "Your devotion to your projects contributes immensely to the research culture at York."