When:
March 1, 2015 @ 12:00 pm – 12:15 pm
2015-03-01T12:00:00-05:00
2015-03-01T12:15:00-05:00
The Association of Canadian Universities for Northern Studies 11th Student Conference will be held November 5-8, 2015 at the University of Calgary. The Call for Abstracts is now open. Abstracts will be accepted until May 31, 2015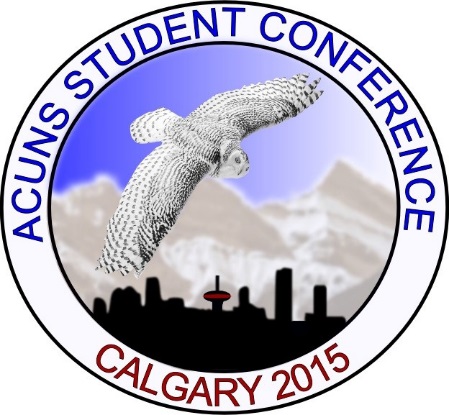 The Association of Canadian Universities for Northern Studies (ACUNS) has a vision "to engage Canadians in thinking and dialogue about research and education in Canada's north". As part of their mission, a triennial conference is held to advance and promote northern research and education. The 11th ACUNS Student Conference will take place in Calgary, Alberta, and is hosted by the Arctic Institute of North America and the University of Calgary. Largely organized by a committee of graduate students from the University of Calgary, ACUNS 2015 welcomes students from around the world.
This interdisciplinary conference will be a gathering of early career scholars working on all topics related to the circumpolar north, be they in science, social science, or the humanities. The conference will provide young researchers the opportunity to exchange ideas, develop professional experience, and make national and international connections.
Under the theme Due North: Next Generation Arctic Research & Leadership, the next generation of northerly scholars are invited to attend ACUNS 2015. We invite you to present your work and to bring your expertise to this exciting event. Our diverse sessions will include topics on climate change, food security, natural resource development, Arctic policy, sustainable development, northern biodiversity and conservation, education, and circumpolar health.
The conference logo (shown above) is comprised of the City of Calgary skyline, mountain range, and a snowy owl. Not only is the snowy owl a distinct symbol of the north, it can also be used as an analogy to many northern researchers. During the summer, the snowy owl is typically found in the northern circumpolar region. However, for the remainder of the year, the snowy owl can be found living much farther south. The skyline and mountain range represent the conference itself. The City of Calgary skyline has the Calgary tower at its centre with part of the Rocky Mountain range that can be seen from within the City.
Conference Themes
C1: Arctic Communities: Resilience, Management, Culture, Indigenous Knowledge.
C2: Arctic Sustainable Development: Sovereignty, Infrastructure, Healthcare, Tourism, Land Management, Protected areas, Citizen Engagement.
C3: Arctic Wildlife, Ecosystem and Biodiversity: Flora & Fauna, Vegetation, Habitats, Food system, Migration patterns, Wildlife health and monitoring, Forest fire, Species Endangerment, Impacts, Conservation, Management.
C4: Arctic Food Security: Food sovereignty, Subsistence, Productivity, Transportation, Food safety.
C5: Arctic Landscapes: Geology, Geomorphology, Hydrology, Glaciology.
C6: Climate Change and adaptation: Arctic Warming, Extreme events, Climate variability, Biogeochemical Cycles, Changing Landscapes, Building Resilience.
C7: Disaster Risk Management: Oil Spills, Toxic contaminants, Coastal Floods, Mitigation, Capacity Building.
C8: Policy, Politics and Leadership: Commerce, Geopolitics, Climate Laws, International Organizations.
C9: Arctic Environment (Data and Techniques): Remote Sensing, Modeling, Surveying, Data sources, Ice core drilling.
C10: Arctic Resources: Renewable energy, Fossil fuels, Fishing, Oil and Gas, Exploitation, Consultation.
C11: Future of Arctic: Opportunities & Vulnerabilities, Mitigation, Culture, Climate, Wildlife, Indigenous Communities, Economy, Sustainability
To submit an abstract, please visit the ACUNS 2015 Abstract Submission Page
To register for the conference, please visit the ACUNS 2015 Conference Registration Page