York University's Centre for Research on Latin America and the Caribbean (CERLAC) is hosting its 4th International Graduate Student Research Conference (In)dependency and its Tensions: Democracy, Culture and (Post)Development May 1 and 2 @ York University, Toronto, Canada.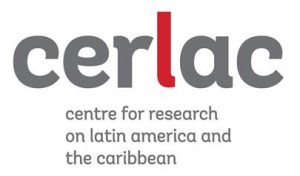 This conference brings together scholars working on the Americas to share their research in a collegial, professional and friendly environment. We are seeking a broad range of proposals; critical, engaging, diverse, and dynamic themes that span across various disciplines including, but not limited to, social sciences, humanities, environmental studies, the arts, education, law, and business. Themes from previous conferences include indigeneity, literature, inter-state relations, knowledge and power, violence, identity, language, development, gender, fair trade, diaspora, memory, Latin American and Caribbean thinking, and neoliberalism.
This year the conference emphasis is on building critical thinking that addresses the structures of (in)dependency at multiple levels—socio-political, economic, and cultural—for the hemisphere. For a long time, an imaginary of enduring dependency prevailed in and about Latin America and the Caribbean. The last two decades give signs of both emancipation and the persistence of subordinations. This conference will host panels that explore their topics in the light of the North-South relations problematizing and /or proposing new approaches to this geographical divide.
Abstracts must be 300 words maximum and can be submitted in English, French, Portuguese, or Spanish by January 15, 2015. We strongly encourage applicants to present panels instead of individual submissions.
CERLAC is a York University-based hub for inter- and multidisciplinary research on Latin America and the Caribbean, their diasporas, and their relations with Canada and the rest of the world. It provides a meeting space for faculty, students, and visitors to discover common interests; supports their projects by facilitating grant administration, partnership formation, and the co-production and sharing of knowledge; and trains new generations of regional scholars. Recognized since its founding in 1978 as the preeminent LAC research body in Canada, CERLAC furthers York's mandate for excellence in international and community- engaged research by producing high-quality, socially progressive scholarship in collaboration with partners throughout the Americas and close to home. Crossing boundaries between North and South and building bridges between the university and its constituents, CERLAC grounds critical reflection on Canada's role in its hemisphere.
Contact/Submissions: yorkucerlac@gmail.com
Languages: We are accepting submissions in English, French, Portuguese and Spanish.
Deadline for submission of abstracts and panel proposals is January 15, 2015
Applicants will receive confirmation of acceptance by February 15, 2015
To confirm participation, accepted presenters will be asked to submit their papers - or a near-final draft by March 31, 2015