When:
October 15, 2015 @ 9:00 am – 1:00 pm
2015-10-15T09:00:00-04:00
2015-10-15T13:00:00-04:00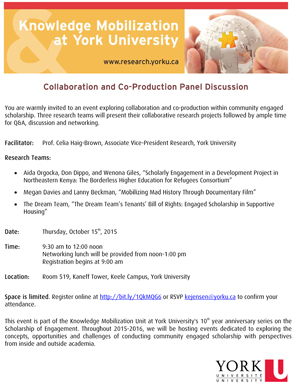 You are warmly invited to an event exploring collaboration and co-production within community engaged scholarship. Three research teams will present their collaborative research projects followed by ample time for Q & A, discussion and networking.
Facilitator: Prof. Celia Haig-Brown, Associate Vice-President Research, York University
Research Teams:
Aida Orgocka, Don Dippo, and Wenona Giles, "Scholarly Engagement in a Development Project in Northeastern Kenya: The Borderless Higher Education for Refugees Consortium"
Megan Davies and Lanny Beckman, "Mobilizing Mad History Through Documentary Film"
The Dream Team, "The Dream Team's Tenants' Bill of Rights: Engaged Scholarship in Supportive Housing"
Date: Thursday, October 15th, 2015
Time: 9:30 am to 12:00 noon; Networking lunch will be provided from noon-1:00 pm; Registration begins at 9:00 am
Location: Room 519, Kaneff Tower, Keele Campus, York University
Space is limited. Register online at http://bit.ly/1QkMQG6 or RSVP kejensen@yorku.ca to confirm your attendance.
This event is part of the Knowledge Mobilization Unit at York University's 10th year anniversary series on the Scholarship of Engagement. Throughout 2015-2016, we will be hosting events dedicated to exploring the concepts, opportunities and challenges of conducting community engaged scholarship with perspectives from inside and outside academia.