When:
March 9, 2016 @ 12:00 pm – 1:00 pm
2016-03-09T12:00:00-05:00
2016-03-09T13:00:00-05:00
Facilitated by Alia Abbas, Senior Teaching Assistant in the Department of Geography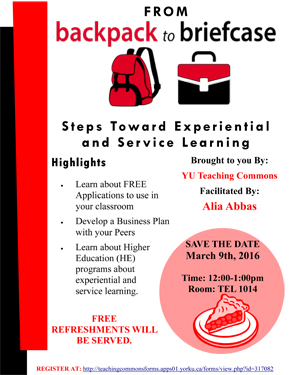 Several universities are still teaching according to the 19th century model and this creates challenges for our newer graduates. Linking education with innovation is vital. In order for us and our students to thrive in the 21st century world of work, we must adapt to newer teaching strategies. As a teacher and student why do I regard this as so important? Let me explain why.
Currently unemployment and particularly youth unemployment is a critical issue facing our economy. To address these issues of unemployment we must look at our relationship between employers and higher education institutions in order to find solutions. We need to understand that there is a much deeper connection between the world of business and higher education.
Over the years we have seen changes in higher education institutions wanting to develop programs around experiential and service learning. Awareness of the need for new approaches to learning and teaching strategies is growing. It is through the Teaching Commons at York University we gain awareness around issues of higher education and how we can improve our role as educational developers. We must understand:
The role and value of higher education, the very nature of education, are being challenged and looked at in a new light. We need to question the status quo. We know that in many sectors, we are not producing graduates to meet the needs of companies and markets... Over the years, closer cooperation between education and business has shown itself to be mutually beneficial, particularly in the field of research, and increasingly, as a means to identify new ideas, new talent and start-up creation. (European Commission, 2015)
Therefore I invite you to join in this hour long workshop on March 9th, 2016 to discuss new teaching methods, business plan development, and support programmes for student entrepreneurs. We will look at current debates and resources surrounding this topic. We will look at how higher education is contributing and developing programmes around social entrepreneurship. We will discuss how higher education itself is shifting focus towards experiential and service learning.
The expected outcomes of this workshop are:
Participants become familiar with higher education programmes on experiential and service learning and how it can help them with developing a more entrepreneurial approach within their area of responsibility.
Participants will discuss and work together on developing business plans of their own to work alongside universities on curriculum development and delivery
Participants will identify real actions and cases where the implementation of such programmes has occurred
Participants will learn about new apps freely available to download to help them promote teaching and learning in higher education within their area of responsibility
Remember this is a BYOD (Bring Your Own Devices) workshop for those who wish to follow along with the presentation and try out the apps introduced in the session. It is not mandatory but would be proven useful if you do so.
This workshop will count towards the Teaching Commons' 'Record of Completion' certificate.
Register for From Backpack to Briefcase: Steps Toward Experiential and Service Learning.