When:
October 8, 2015 @ 4:00 pm – 7:00 pm
2015-10-08T16:00:00-04:00
2015-10-08T19:00:00-04:00
Where:
Nat Taylor Cinema N102 Ross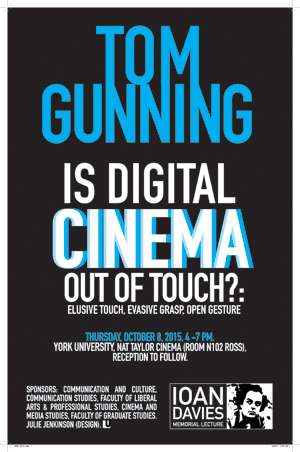 Prof. Tom Gunning, of the Department of Cinema and Media Studies at the University of Chicago presents this year's Ioan Davies Memorial Lecture
Thursday October 8, 4:00 to 7:00 pm at the Nat Taylor Cinema (N102 Ross).
Professor Davies taught at York from 1972 until his death in 2000, helped establish the African Studies Program, the Graduate Program in Social and Political Thought and the Joint Graduate Programme in Communication and Culture, and was a founder of the journal border/lines. Each year, The Ioan Davies Memorial Lecture invites Dr. Davies' many distinguished colleagues, students and friends to say a few words on the legacy of his work and life.