When:
October 21, 2016 @ 10:00 am – 3:00 pm
2016-10-21T10:00:00-04:00
2016-10-21T15:00:00-04:00
Where:
101 Stong (Master's Dining Room)

The Victorian Studies Network at York presents its 9th Annual Symposium
New Approaches to Victorian Studies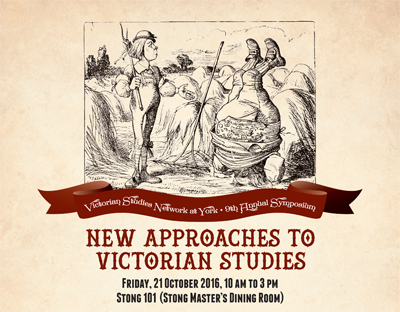 Faculty and graduate students from all departments are invited to attend. The cross-disciplinary scope of the program—including Victorian literature, legal scandals, economic debates, anti-imperialism, philosophy, educational reform, and travel writing—is particularly inviting.
The Victorian Studies Network at York connects researchers and enhances connections among faculty and graduate students. Our goal is to facilitate interdepartmental and interdisciplinary work, to enrich our personal and collective experience of research in the field, and to showcase York as a centre for Victorian studies.
Scott McLaren (Scott Library)
"Hostile Against Everything British: American Books in Upper Canadian Schools, 1844–1860"
Kathryn Roberts (Humanities)
"The Letter, the Spirit and the Obscurity of Jude: Reading Ethically, a Hermeneutical Approach to Thomas Hardy's Final Novel"
Deborah Neill (History)
"Human Rights or Free Trade?: A British Merchant's Reluctant Activism in the French Congo at the End of the Nineteenth Century"
Victor Shea (Humanities)
"'Words of Power on the Other Side of the Ocean': Remapping Carlyle and Mill 'On the Negro Question'"
Sonja Pushchak (Humanities)
"The Nature of the Charges: Science Anxiety, Publication Bias, and the Trials of Oscar Wilde"
Anna St. Onge (Scott Library)
"'What She Was: by Herself': Archival Disappointments, Hints, and Spirits in the Papers of Victoria Welby"
All are welcome. Lunch is provided.
RSVP: Prof. Lesley Higgins at ljhiggins@aol.com