When:
April 17, 2015 @ 2:58 pm – April 18, 2015 @ 3:58 pm
2015-04-17T14:58:00-04:00
2015-04-18T15:58:00-04:00
Where:
Kaneff Tower, York Unviersity

Contact:
Colin Coates
416.736.2100 ext. 33518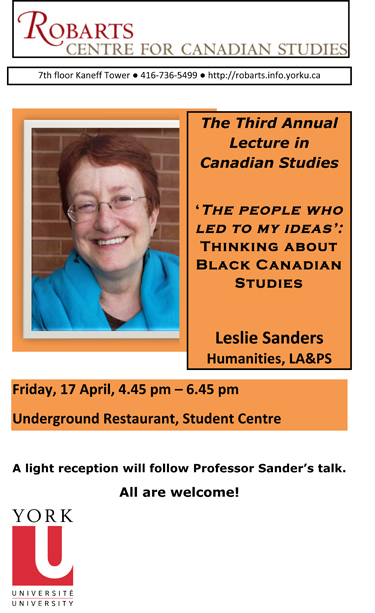 The Robarts Centre is delighted to announce that the Third Annual Lecture in Canadian Studies will be given by our colleague Leslie Sanders on the theme: "'The people who led to my ideas': Thinking about Black Canadian Studies." University Professor Leslie Sanders has played a key role in enhancing the profile of Black Canadian Studies at York and beyond. The talk will take place in the Underground Restaurant on Friday, 17 April at 4.45 pm.
In conjunction with this talk, the Robarts Centre is also hosting its second annual Graduate Student Conference on the theme "Robarts Goes Pop!". The conference starts at 12.50 pm on Friday 17 April and ends on Saturday at 3.30 pm. It will be held in the Kaneff Tower. Graduate students from ten different universities in Ontario, New York and Ohio will participate in this event, and they will present papers on a range of topics addressing different forms of popular culture in Canada. All are welcome to attend sessions.
The programme is available at yorkrobartsconference.wordpress.com/schedule-2015/. This conference is organised by Mario d'Agostino (PhD student, English) with assistance from Jennifer Mussell (PhD student, Political Science). The organisers gratefully acknowledge the support received from the Faculty of Graduate Studies, as well as the Canadian Studies programme ( Glendon) and the Department of English (LA&PS).