When:
October 13, 2017 @ 4:00 pm – 11:00 pm
2017-10-13T16:00:00-04:00
2017-10-13T23:00:00-04:00
Where:
3 rd Floor Learning Studios at TIFF Bell Lightbox, 350 King St W, Toronto ON M5V 3X5



The Toronto Film and Media Seminar host Decolonizing Film and Media Studies Friday October 13, at TIFF Bell Lightbox.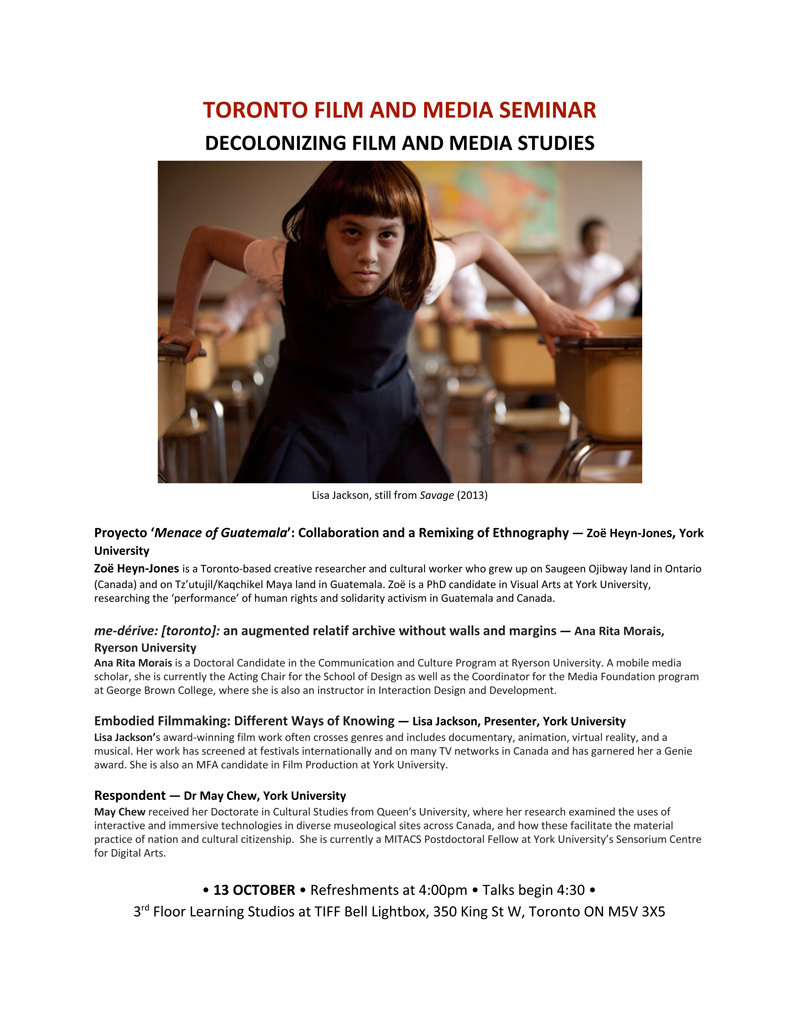 The featured speakers are: Zoë Heyn‐Jones of York University, who will be giving a talk "Proyecto 'Menace of Guatemala': Collaboration and a Remixing of Ethnography," Ana Rita Morais of Ryerson University, whose talk is titled "me‐dérive: [toronto]: an augmented reality archive without walls and margins," and featuring presenter Lisa Jackson also from York University whose talk is titled "Embodied Filmmaking: Different Ways of Knowing," with a response from May Chew, MITACS postdoctoral fellow at York University.
The evening starts at 4:30pm, preceded by refreshments at 4:00.
To stay up to date with TFMS and other film and media events in the GTA, including talks and workshops, join our Facebook group.
The goals of the Seminar are:
Encouraging intellectual and collegial discussion among the Cinema and Media Studies scholars in the region.
Encouraging in-depth scholarly discussion and critical debate.
Showcasing diverse research methodologies and research fields that address a wide range of cinematic technologies (film, television, video, new media, and other forms of moving image and sound screens).
Aiming to model collegial and professional academic discourse for graduate students entering the field.