When:
October 23, 2015 @ 10:00 am – 3:00 pm
2015-10-23T10:00:00-04:00
2015-10-23T15:00:00-04:00
Where:
Stong 101 (Master's Dining Room)

Victorian Studies Network at York – 8th Annual Symposium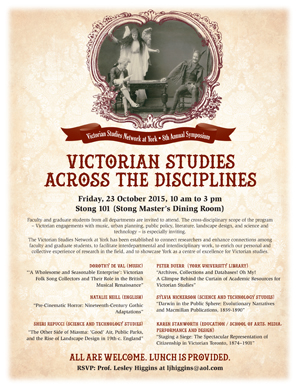 Faculty and graduate students from all departments are invited to attend. The cross-disciplinary scope of the program – Victorian engagements with music, urban planning, public policy, literature, landscape design, and science and technology – is especially inviting.
The Victorian Studies Network at York has been established to connect researchers and enhance connections among faculty and graduate students, to facilitate interdepartmental and interdisciplinary work, to enrich our personal and collective experience of research in the field, and to showcase York as a centre of excellence for Victorian studies.
Dorothy De Val (Music)
"'A Wholesome and Seasonable Enterprise': Victorian Folk Song Collectors and Their Role in the British Musical Renaissance"
Peter Duerr (York University Library)
"Archives, Collections and Databases! Oh My! A Glimpse Behind the Curtain of Academic Resources for Victorian Studies"
Natalie Neill (English)
"Pre-Cinematic Horror: Nineteenth-Century Gothic Adaptations"
Sylvia Nickerson (Science and Technology Studies)
"Darwin in the Public Sphere: Evolutionary Narratives and Macmillan Publications, 1859-1890"
Sheri Repucci (Science and Technology Studies)
"The Other Side of Miasma: 'Good' Air, Public Parks, and the Rise of Landscape Design in 19th-c. England"
Karen Stanworth (Education / School of Arts, Media, Performance and Design)
"Staging a Siege: The Spectacular Representation of Citizenship in Victorian Toronto, 1874–1901"
All are welcome. Lunch is provided.
Please RSVP: Prof. Lesley Higgins at ljhiggins@aol.com