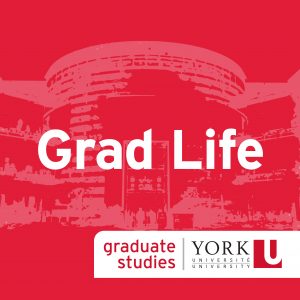 Grad Life is the official podcast of the Faculty of Graduate Studies at York University, featuring interviews with the faculty, staff, and students of the graduate programs. Learn more about the research, events, and ideas of the place where knowledge is made.
Grad Life is available through iTunes, Spotify, Stitcher, and the podcast app, and can also be accessed through our Soundcloud account.
Episode 26
Autism and the Police | Mother-Child

Today we talk to two PhD students from York University's Psychology program. First: Alisha Salerno has found that a disturbing number of people with developmental disabilities, particularly Autism Spectrum Disorder, fear interaction with the police. She is exploring their personal stories to find ways to improve relations. Next: Shaylea Badovinac is part of a research team that explores links between maternal depression symptoms and mother-child detachment in early life. As we all know, the bond between mother and child, especially in the early years, is one of the strongest forces in the world. So how does this study illuminate the challenges that both parties face with attachment and detachment?
Episode 25
Refugees: Not All in the Same Boat

While everyone has the right to declare refugee status in Canada, not all refugees are perceived as equal. Harini Sivalingam is a PhD candidate in Socio-Legal Studies. She is currently working on a dissertation about the public, legal, and political discourses surrounding the arrival of asylum-seekers n Canada. In a recent op-ed for the Toronto Star, she used the case of a boat called the MV Ocean Lady to explain some of her ideas…
Read Harini's op-ed here: www.thestar.com
Episode 24
Hong Kong Through a Cartoonist's Eyes

A Hong Kong cartoonist has spent 40 years chronicling China and Hong Kong's many social and political upheavals. Wong Kei-kwan—better known by his pen name Zunzi—is Hong Kong's best-known political cartoonists, and also one of its longest-lasting. His work for the Chinese-language newspaper "Ming Pao" is highly critical of the People's Republic and its encroaching influence on Hong Kong, both before and after the 1997 reunification. Zunzi is at York University this week for the opening of the career-spanning exhibition "Now What?!!—Civil movements through a cartoonist's eyes." The exhibition is presented by the York Centre for Asian Research and the Department of Design in the School of Arts, Media, Performance & Design. It can be viewed in the fourth floor corridor of the Victor Phillip Dahdaleh Building at York. On Friday, November 8, a daylong series of panels, speeches, and discussions will contextualize the show. On this episode, we talk to Zunzi and exhibition curator Wendy Siuyi Wong.
Learn more about the events on November 8, "From the 2019 Hong Kong Protests to the World's Tomorrow: The Power of Disobedience, Discourse and Creative Dissent"—ycar.apps01.yorku.ca/event/2019-hong-kong-protests-creative-dissent/
Episode 23
Good Morning Ethiopia

In a small village in rural Ethiopia, Helen Claire Andrus (a York Development Studies graduate student) discovered the pedagogical and community-building potential of radio. She discusses how radio is used to spread important information to rural farmers, and her own work studying the practice of photography by development organizations. Read "Listening together: Radio helps empower a family and the community" by Helen Claire Andrus — farmradio.org/listening-together
Episode 22
What is Girls' Studies?

The Girls' Studies York Research Network (GSYRN) is a new research network that brings together scholars, professors, practitioners, and students in all disciplines to share knowledge on the subject of girlhood. This specific-yet-vast subject raises many questions: What is a "girl"? How does the definition vary? What challenges do girls face at this particular historical moment? Where do these many disciplines intersect? To discuss, we're joined by Deanne Williams (professor of English at York), Natalie Coulter (professor of Communication Studies at York, director of the Institute for Research on Digital Learning), and Clara Chapdelaine-Feliciati (professor of International Law; barrister & solicitor with the Law Society of Ontario). For more information on cfr.info.yorku.ca/2019/06/new-research-cluster-girls-studies-york-research-network-gsyrn/
Episode 21
Documenting Addiction

Manfred Becker (Graduate Program Director of York's Film program) discusses "Saving Rabbit," his new documentary for CBC Docs POV. The film chronicles the story of Peter, aka "Rabbit," a Toronto fentanyl user seeking recovery. Becker discusses how he built a rapport with his subject, the tricky ethical waters he navigated, and the day-to-day reality of addiction. Watch "Saving Rabbit": www.cbc.ca/cbcdocspov/episodes/saving-rabbit Read Manfred Becker's memoir of the production: www.cbc.ca/cbcdocspov/blog/his-life-is-a-constant-battle-for-survival-meet-rabbit-a-fentanyl-user-in
Episode 20
Green Space and Mental Health / An Indigenous Friends Association

Mental health issues and mood disorders like depression and anxiety are rising worldwide. So are urban populations. Being outdoors is said to make people happier, and Urban & Regional Studies PhD student Nadha Hassen hopes to better understand how urban green spaces affect people with mental health issues. Plus: The Indigenous Friends Association builds and supports technology by, with, and for Indigenous peoples. Created through the Centre for Aboriginal Student Services, it began life in 2015 as a mobile app that creates networks between Indigenous Youth and raises awareness of resources and counselling in local communities. Alejandro Mayoral Baños (PhD candidate in Communications and Cultures) discusses the initiative and its future.
Episode 19
All the World's a Stage

Art doesn't exist in a vacuum, and theatre is not limited to an auditorium. Alison Wong, incoming York MFA student in the Department of Theatre, discusses producing the Exchange series at this year's SummerWorks Performance Festival, creating innovative events like a site-specific conversation with Elder Duke Redbird on the waterfront, and a conversation about Queen Street's history on a double-decker bus. Learn more about SummerWorks Exchange: summerworks.ca/exchange
Episode 18
Modern Slavery | Day-to-Day Life in an Opioid Crisis

We tend to associate the concept of slavery with faraway times and places, but Kam Phung (PhD candidate in the Schulich School of Business) has found it to be a common factor in the global marketplace, with many big-name companies complicit. What does slavery look like in a modern context? And what are your favourite brands doing to address it?
Plus: In 2015 the Government of Ontario introduced legislation to curb the opioid crisis… but Leigha Comer (PhD candidate, Sociology) is exploring the unintended consequences on individuals with chronic pain for her thesis.
Episode 17
Let's Talk About Sex… and Disability

Sex makes people uncomfortable. So does disability. So what happens when these subjects intersect? Fourth-year Kinesiology and Health Science PhD candidate Jacqueline Kathnelson is breaking down taboos with her research about male sexuality following spinal cord injury. Kathnelson has interviewed men between the ages of 18 and 50 about the supports they need to adapt their sexuality to disability, and discusses what it's been like to research this delicate topic.
Episode 16
The Colonial Gaze

How can journalists interrogate and overcome the colonial gaze? The question is key to the work of Lia Tarachansky—filmmaker, journalist, and York PhD candidate in Cinema and Media Studies—who has explored power relations and colonialism in the Middle East, Canada, and elsewhere. Tarachansky was one of last year's honourees in the Elia Scholars Program, York's most prestigious internal award, facilitated by the Faculty of Graduate Studies. Learn more about Lia Tarachansky's work here: www.liatarachansky.com
Episode 15
Passage to India

This week, two York PhD candidates illuminate underexplored stories from India. FIRST: In 2018, India's Supreme Court legalised homosexuality, but the fight for equality isn't over yet. Shraddha Catterjee (Feminist & Women's Studies) will explore how lesbian and bisexual women and trans-masculine persons continue to live in conditions of heightened precocity. PLUS: The National Food Security Act came into effect in 2013. Guillaume Dandurand (Social Anthropology) is focusing on one aspect of it: the ration card. After spending 17 months in New Delhi, Dandurand discusses how the digitisation of the card has generated some systemic exclusions.
Episode 14
A Witness to Indigenous Self-Governance

In post-conflict Burma/Myanmar, an Indigenous group seeks to establish and govern their own protected area. Relations with the central government are strained. York Geography MA student Andrew Paul has witnessed the process. We discuss how western conservationists can help Indigenous groups without becoming colonisers, and what it's like to travel by foot to the Karen State.
Episode 13
Dancing with the Animals | The New Career Reality

What can dance artists learn from studying the movements of animals? Jonathan Osborn spent years at the zoo trying to answer this question for his York Dance PhD. PLUS: Aurora is an innovative new eLearning platform to help PhDs and Postdocs explore non-academic career paths. We talk to Carolyn Steele (York Career Centre) and Maren Wood (Beyond the professoriate) about bringing Aurora to life, and the new world facing graduates. Learn more about Aurora: careers.yorku.ca/students-and-new-grads/graduate/
Episode 12
What is Memory Studies?

You can't hold a memory or put it under a microscope, but without our memories, we lose our identities. No wonder memory is such a political battleground. York English professor Julia Creet, one of the leading international scholars in the field of Cultural Memory Studies, discusses the political implications of memory, and the ideological factors that have turned genealogy into a booming industry.
Episode 11
Meet the Dean

Thomas Loebel discusses his academic career before becoming the dean of the Faculty of Graduate Studies, including his shared love of music and American literature.
Episode 10
A Space for Queer Students | A Black History of Psychology

This week, we talk to graduate students who are creating space for different perspectives in academia. First: Janelle Curry (MA candidate in Social Anthropology) discusses the Queer Graduate Student Caucus—the first group of its kind for graduate students at York. Plus: psychology grad student Kojo Mintah and undergraduate student Jean-Marc Moke discuss their poster project to shed light on the history of black psychologists, and discuss the importance of representation in the curriculum, and the group Black Students in Psychology at York University.
Episode 9
Stories from a Settler Colony

In 1914, a group of Indian immigrants chartered a boat to Canada, but found that not all subjects of the British Empire could travel freely in the colonies. Governor General Award-winning filmmaker Ali Kazimi (professor in the School of Arts, Media, Performance and Design) explored the the Komagata Maru boat in his 2004 film Continuous Journey, and looks back on what this story tells us about Canada's identity. Then: Since 1991, the Inuit female art/filmmaking collective Arnait has used a variety of media to tackle essential issues: tradition, self-determination, family, mental health, racism, and environmental destruction. Curator Alissa Firth-Eagland discusses a retrospective exhibition of their work, now on display at the Art Gallery of York University.
Episode 8
Shakespeare's Girls

What does a long-dead playwright—arguably the central figure in the western canon—have to tell us about gender? York English prof Deanne Williams has conducted groundbreaking research on Medieval and Renaissance literature, including the groundbreaking study "Shakespeare and the Performance of Girlhood." She's here to discuss the immortal Bard, and where the figure of the girl fits into his oeuvre.
Episode 7
The Dog Episode

On this episode, we turn our attention to man's best friend. First: Film Production MA student Sophy Romvari discusses chronicling the bond between owners and their ageing dogs for her CBC short film In Dog Years. Plus: YFile editor Jenny Pitt-Clark tells her story of rescuing a dog. To see In Dog Years, go to: www.cbc.ca/shortdocs/shorts/in-dog-years
Episode 6
Mental Health

If you're feeling overwhelmed by academia, you're not alone. Mental health affects us all, and this week, we'll be looking at some initiatives designed to support and enhance the wellbeing of the community. Megan Kirk Chang (PhD candidate, School of Kinesiology and Health Sciences in the Faculty of Health) explores how yoga can help trauma survivors struggling with PTSD. She is currently leading an eight-week online research study that explores the effectiveness of mindfulness-based approaches. To take part in her clinical trial, contact mkirk@yorku.ca.
Episode 5
Science is Political

Biology prof Dawn Bazely has been with York University for almost 30 years, and as she has evolved, so has her work. In the topics she studies (including climate change and human security) and the causes she champions (including Women in STEM), she works at the intersection of science, policy, and politics. In this episode, she discusses her career, her experience as a woman in science, the importance of interdisciplinary collaboration… and a strange fungus that is killing sheep!
Episode 4
Indigenous Education

The relationship between Canada's Indigenous communities and the education sector has been historically fraught. On this episode we'll look at some York initiatives that seek a better path forward.
First: we pay a visit to the Centre for Aboriginal Student Services at York. Ally Stoett, Aboriginal Recruitment Officer, talks about the Centre, its services, and its spiritual role at the university.
Then (9:25), we explore the Manitoulin Island Summer Historical Institute, a unique seven-day learning experience that fosters communication between university students and Anishinaabe elders. York history professor Carolyn Podruchny discusses the annual event in Luke Huron, and discusses how to create a reciprocal educational project that seeks to move beyond colonialism.
Episode 3
The Global Filipino / Snowden in a Box

On this episode, we'll be looking ahead to CRAM, a one-night festival of ideas that is bringing Toronto's four main universities together (imagine an all-night art festival, but for research). We look at two of the night's most unique presentations.
Patrick Alcedo is a scholar, dancer, filmmaker, and associate professor in York's Department of Dance. His presentation "The Global Filipino: A Moving Experience," brings together his many interests. Combining documentary film, lecture, and live Philippine folk dances, the presentation explores the Filipino diaspora in Canada.
PLUS: Wouldn't it be nice to study Edward Snowden's leaked documents without the government knowing? Well, good news – there's a technology for that. The Snowden Archive-in-a-Box in an offline archive of all of the publicly available files that Snowden leaked. Libraries and other institutions can use this technology to disseminate sensitive material without incorporating it into their actual collections. Evan Light is an assistant professor of Communications at Glendon College, and shows how it works.
CRAM takes place April 5. For more information, go to cramtoronto.com/.
Episode 2
The Immigrants Who Built Toronto

In the years following the Second World War, Toronto experienced a construction boom. In large part, the city's new skyscrapers and suburbs were built by immigrants from the Polish, Italian, Portuguese, and other diasporas.
How did these disparate communities interact? What safety conditions did these workers face? How did they organise?
Gilberto Fernandes (a postdoctoral Fellow at the Robarts Centre for Canadian Studies and the York University History Department) is project manager, designer, curator, and director of "City Builders: A History of Immigrant Construction Workers in Post-war Toronto." The ambitious multimedia project seeks to record the memories of the immigrants who built the city. The project can be found at: toronto-city-builders.org/
Episode 1
Off the Gridiron with Kamau Peterson

Welcome to Grad Life, the official podcast of York University's Faculty of Graduate Studies. On the first episode, we talk to Kamau Peterson, Canadian Football League veteran and offensive coordinator of the York Lions. He discusses transitioning from player to coach, and how his days on the field inform his coaching.
PLUS: What makes something invisible or visible? What is the relationship between visibility and what is considered "real"? York's Science and Technology Studies Department hosts the Fifth Annual Binocular Graduate Conference with a unique theme: "(In)visibilities." We talk to co-organizer Angela Cope about the implications of "visibility" on academia.