York University's IDP Pilot is designed to help students identify their professional goals as well as to better understand the skills and competencies needed to achieve those goals. The IDP includes a framework that will help to develop a plan for professional skills, but is intended to be supplemented by ongoing consultations with academic supervisors, graduate program directors as well as relevant individuals across the university and beyond.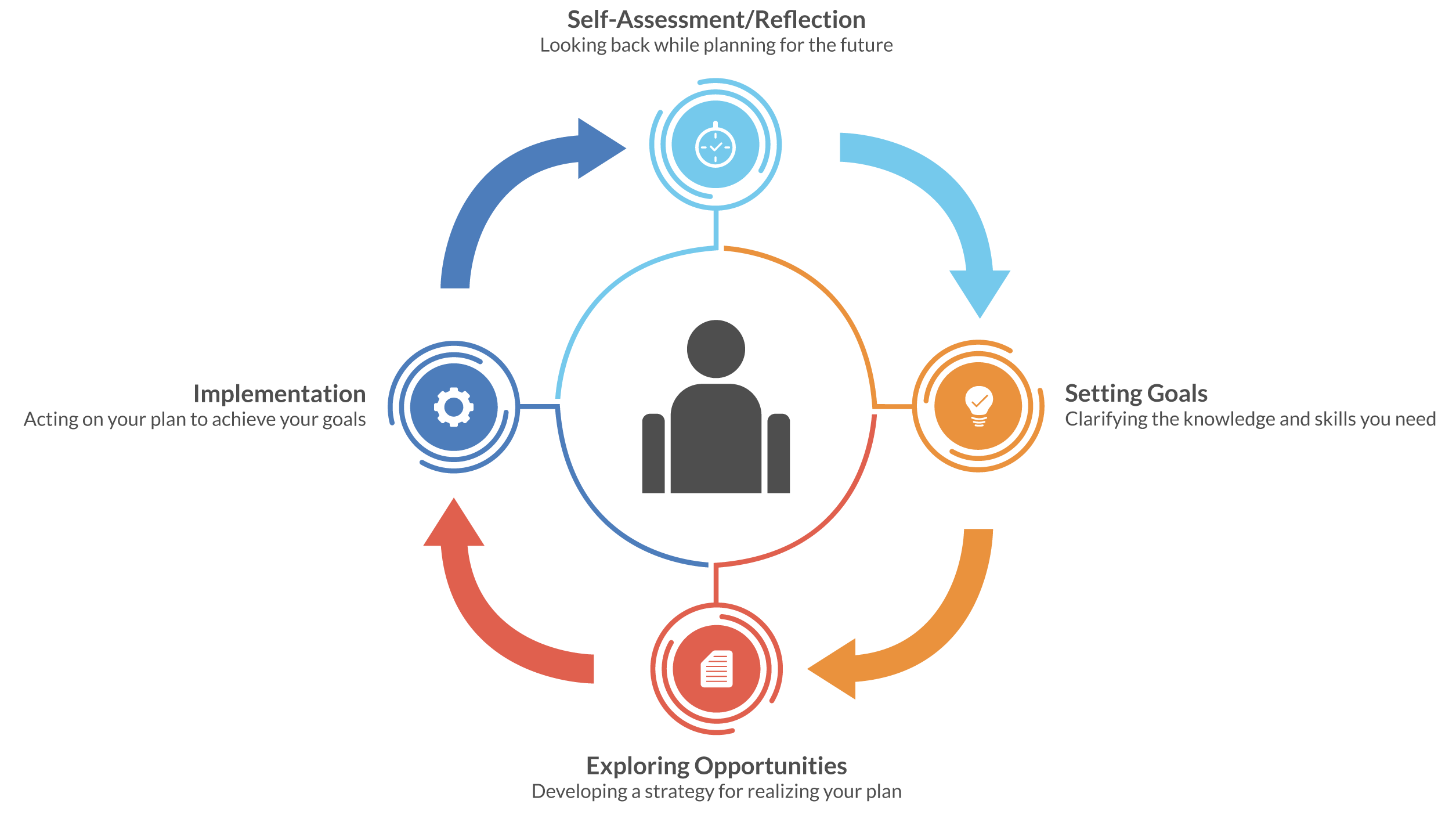 Download the IDP: Individualized Development Plan.docx
York University's IDP consists of:
A brief overview of the framework for professional skills and competencies at York
A self-assessment worksheet for students to reflect on their recent activities and future goals
An outline of an IDP that students can complete that will address their goals for the coming year
We recommend revisiting your IDP once a year (if not more frequently) in order to assess the activities and outcomes of the previous months and to revise your plans and expectations for the future.
To help you to complete the self-assessment and IDP, we encourage you to draw on the information and resources available through the Graduate and Postdoctoral Professional Skills (GPPS) webpage. Your Graduate Program Director will also be able to provide further information about professional skills opportunities offered through your program and your supervisor may also be able to suggest concrete examples of activities and goals that are relevant to your field of study.
*Note: While your IDP can be kept private, the development of the plan is often a collaborative process that draws on the expertise and feedback from supervisors, program directors and others. You may draw on different individuals for different kinds of support. Some may support you in understanding how the skills and knowledge you are acquiring as part of your degree may translate into other contexts. Others may direct you towards resources that may support you in preparing for future careers, or may speak more broadly to strategies for well-being and long-term planning.
Reflecting and reviewing your values, interests and skills is an ideal place to begin a discussion of the kinds of professional skills training needed to supplement your academic programming as well as an important step in identifying potential professional pursuits. There are a number of resources available to graduate students that may help you better understand your goals and priorities including online tools as well as advising available through the career centre. This form is designed to help structure your reflections. It is not intended to be shared or part of any formal consultation, but to provide students with an opportunity for a holistic review of their current experience and future goals.
The self-assessment asks students to reflect on their skills, experiences and goals. It is divided into the same six competency areas into which York professional skills programming is divided.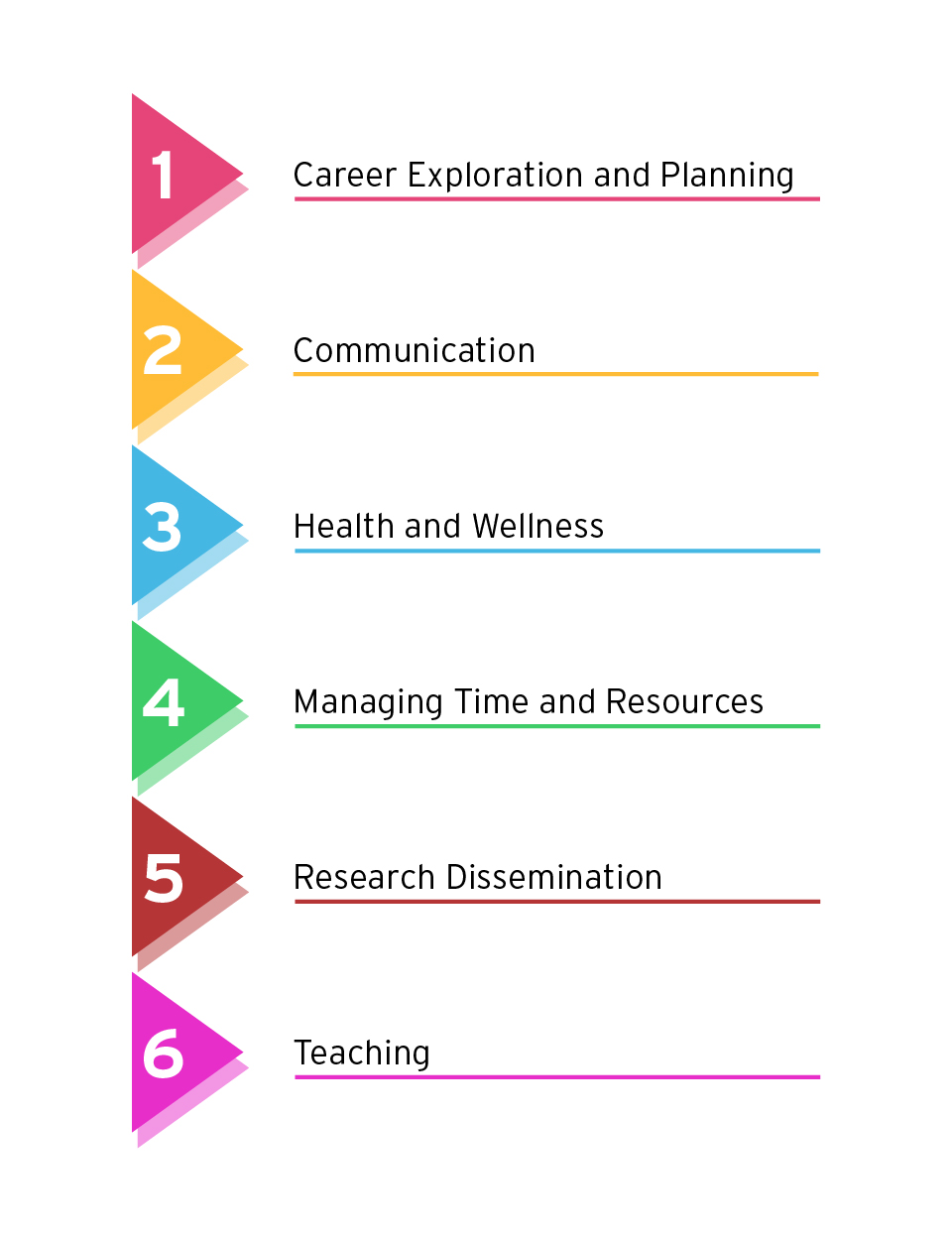 A series of questions are provided related to each of these areas with the intention of prompting reflection, although the format of the response is up to you. Not every area may be equally relevant or important to everyone, but we encourage students to explore every area and engage with gaps and areas for improvement as much as strengths and recent successes.
For each of these areas, a series of questions asks you to reflect on your previous experiences as well as future possibilities in relation to the kinds of skills you have already acquired and those you would like to develop for the coming year.
There is a final area that asks students to reflect, in a holistic manner, on their recent experiences and future goals. This may draw on the previous answers of this worksheet, but also to include other thoughts and experiences.
The Graduate & Postdoctoral Professional Skills (GPPS) program is divided into six broad areas to connect you to opportunities and resources that will help you develop your professional plans and goals, and to strategically meet those goals:

There exist a variety of versatile career options for those with advanced degrees. Learning the tools required to evaluate career options, and the skills needed to enter those careers, will help you transition from university to workplace.
An important aspect of the expertise one acquires as part of graduate study or postdoctoral research is the ability to effectively communicate information through writing and other mediums. What are some techniques for improving written and oral communication to professional colleagues or to laypersons?

A variety of campus and community services are available to support and enhance the well-being of scholars during one's academic pursuits.
It is difficult to balance the demands of life, work and study, but there are strategies that can be used to help manage time more effectively.
The importance of research isn't limited to other scholars. What are the tools and techniques that help translate academic work into other contexts?
The skills learned when leading a classroom are skills that can be relevant in many other contexts, such as public speaking, formulating plans and interpersonal skills.
Resources
Graduate & Postdoctoral Professional Skills (GPPS) webpage - An overview of all professional skills development opportunities accessible to graduate students
If you have any questions about this IDP, or professional skills development for graduate students, please contact Wesley Moir, Academic Affairs Officer, at wmoir@yorku.ca or your Graduate Program Director
Drop-in Sessions for Interested Students
Monthly drop-in sessions have been scheduled for interested students who have questions about their IDP and would prefer a conversational format via Zoom rather than over email. FGS' Associate Dean Academic will be present, along with a campus partner from the Graduate & Postdoctoral Professional Skills suite of offerings to speak to a specific area of professional skills support on campus:
Teaching - Tuesday, November 17, 2020 - 1:00-2:00pm
Dr. Natasha May, Educational Developer from the Teaching Commons, will be speaking about the Department's various offerings for graduate students, the transferable nature of those development opportunities for CV/resume building and/or job interviews, and how they can help students achieve some of their professional skills goals.
Health and Wellness - Thursday, December 3, 2020 - 1:00-2:00pm
Sarah Irwin-Gardner, Manager, Graduate Student Wellness Services, will be speaking about Wellness Services' various offerings for graduate students and how these opportunities can build wellness skills that can be applied toward academic goals and beyond.
Research Dissemination - Tuesday, January 19, 2021 - 1:00-2:00pm
Krista Jensen, Knowledge Mobilization Officer at Innovation York, will be speaking about the development, implementation and evaluation of social media practices in research. This session is excellent for researchers who are considering options for creating and evaluating an effective and impactful social media strategy.
Making Connections – Expanding your Professional Network - Tuesday, February 9, 2021 - 1:00-2:00pm
Carolyn Steele and Surina Sohal from the Career Education and Development Centre will be providing strategies, guidance and tips for effectively networking, building rapport and expanding your professional network, with an emphasis on the current work/study-from-home environment that many find themselves in. This session is excellent for graduate students who are exploring collaboration and partnership opportunities.
Academic Project / Thesis Proposal Writing - Tuesday, March 16, 2021 - 1:00-2:00pm
Finding your own voice as a new scholar is one of the biggest challenges you will face as a graduate student. Writing a solid research proposal can be a critical step on that journey. Led by Scott McLaren, PhD, from York Libraries, this session will focus on elements that make up a good proposal with particular emphasis on the central role played by the literature review. What makes a good literature review? How it is different from a bibliography? And how can it help you arrive at a workable set of compelling and original arguments that will matter to other scholars in your field? Taking time to explore these and other questions will help you successfully navigate this formative experience in your own development as a scholar.
Time Management for Graduate Students - Tuesday, April 6, 2021 - 1:00-2:00pm
Graduate school poses a unique set of time management challenges for students, with its combination of structured and unstructured time, high performance expectations, and so many competing demands. This workshop, presented by Cathy Boyd-Withers, PhD, of Learning Skills Services, focuses on strategies and resources for successfully managing your time as a grad student, to help you get your work done and find better balance in your life.