Are you a new graduate student? If so, we look forward to meeting you at the 2020 Grad Social!
Hosted this year online, this event will give you an opportunity to meet with the Graduate Studies Decanal team, engage with various online services and supports available to York University graduate students. We will have rooms open where you can ask questions about graduate funding, scholarships and awards, accommodations, graduate wellness services. We will also have rooms with representatives from the following university services:
We look forward to seeing you Tuesday, September 8th. Please use the link below to register.
When: Tuesday, September 8th — noon–1:30pm (doors open 11:30am)
Where: Zoom (link to be provided prior to the event)
To Register: https://gradsocial.easyvirtualfair.com/
The Schedule
11:30am - Doors Open
Noon - Dean's Welcome - introductory remarks from Thomas L. Loebel (Dean & Associate Vice-President, Graduate Studies), Lisa Philipps (Provost), and Joy Kirchner (Dean of Libraries) –
Noon – 1:30pm – Campus Groups & Services Q&As. Meet and ask questions to representatives from FGS and York groups and services at their Virtual Booths. Click on their "Webcast" and say hello!
How it Works
Register at gradsocial.easyvirtualfair.com (all you need is an email and username)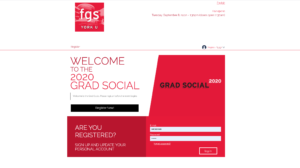 Log in and enter the event. Find the FGS Welcome Room, webcasts, and group/service booths in the left-hand menu...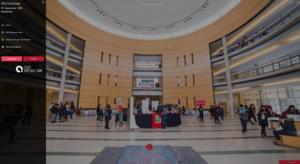 ...OR click the down arrow and find the whole convention floor.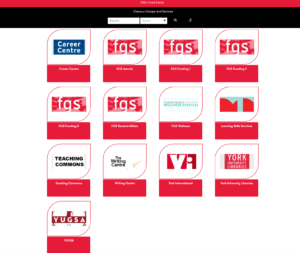 Every virtual booth has a range of information about each group/service. Click on Webcasts to join the virtual Q&A.